Double Premeate Ampoule[50ml]
Double Premeate AmpouleCELON PURE Double Permeate Ampoule [50mlX2]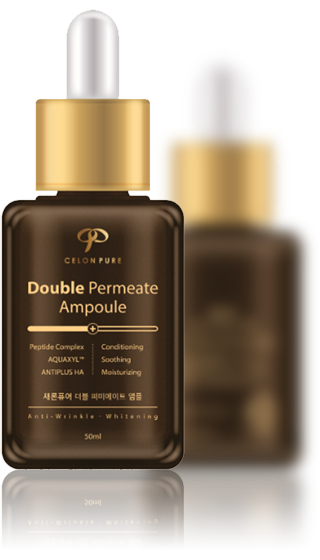 Ampoule for exclusive use of LED mask
The peptide six kind-complex brings back the skin that has lost elasticity to takes care of it with the skin on the baby's face, Niacinamide, an official ingredient of KFDA, revitalizes dull skin. Hyaluronic acid of five combinations different in molecular weight manages moist and healthy light skin. AQUAXYLTM, a patented ingredient of SEPPIC, forms a strong moisture active energy, Gives a smooth and shiny skin texture.
Moisture(ANTIPLUS HA)

Wrinkle improvement / whitening(Adenosine / niacinamide)

Soothing skin(Patent ingredient of AQUAXYLTM)

Elasticity(Peptide Complex)

EWG Green Grade
What is EWG Green Grade?
Low Hazard

Moderate Hazard

High Hazard
What is "EWG rating" unfamiliar to the average consumer?
The component safety rating was divided from 1 to 10 by EWG, a U.S.
public trusting environmental group, investigating the harmfulness of cosmetics materials.
Usually, 1-2 (safety) is rated as EWG Green (green),
3-6 as a normal and 7-10 as a risk group.


Escosmetics Co., Ltd.
Ministry of Food and Drug Safety
CGMP certified company
Excellent cosmetics manufacturing and quality control standards
CGMP is a standard for manufacturing and quality control recommended by the
Ministry of Food and Drug Safety to manufacture and supply high quality cosmetics.
We promise to develop honestly and transparently the differentiated products and the impressions
they give and to realize customer satisfaction through thorough quality control.


KS Q ISO 9001:2009 / ISO 9001:2008
ISO 22716: 2007 certified company
Dual functional cosmetics
NiacinamideAs a water-soluble vitamin B3, stable against heat and light and listed as a whitening notice material of KFDA. A whitening functional ingredient that has the function of skin tone improvement and whitening, when used on the skin, makes the skin clearer, brighter and radiant, and can be registered as a whitening functional cosmetics at KFDA when using a certain content (2 ~ 5%).

AdenosineAs a functional test material for wrinkle improvement, helps to improve wrinkles by strengthening elasticity on aging weak skin. Restores the skin self-generation and gives the wrinkled and sagging skin volume to provide youth.
Device analysis

Using state-of-the-art precision analysis devices, Escosmetics conducts component analysis within cosmetics, and also engages in cooperative work to secure external safety.

Microbial experiment

Escosmetics conducts microbial testing to provide consumers with safe, quality products that are free from contamination, from manufacturing to final finished products.

(Test Items: Check for contamination in microorganisms of purified water, raw materials and finished products, environmental monitoring etc.)

Certification StatusEscosmetics is a company certified as ISO 9001 (Quality Management) and ISO 22716 (International Quality Management Standards for Manufacturing and Quality Management Standard) by the CERMET International ISO Certification Board, and is a reliable company recognized for its quality and management capabilities.
Main ingredient
Peptide Complex

[Copper tripeptide-1, palmitoylpentapeptide-4, tripeptide-1, palmitoyl tripeptide-1, hexapeptide-9, hexapeptide-11 ]
Peptides help to strengthen and rebuild skin barriers and give skin conditioning, helping to make your skin look fresh and healthy. It also helps the transition to a new skin layer and improves the roughness of the skin to make it smooth and lively. In addition, six peptide complexes, small polymers in the form of amino acids are linked to normalize the original function of Puzzle Effect(Similarly effective peptide clusters show their efficacy in the right place in the skin like a puzzle, and similar effects are synergistically applied, showing a stronger effect than a single substance)skin. Effectively strengthens the bond from shallow wrinkles to deep wrinkles to make the skin smooth and bouncy.

ANTIPLUS HA_5 kinds of hyaluronic acid

[Sodium Hyaluronate, Hydrolyzed Hyaluronic Acid, Hydroxypropyltrimonium Hyaluronate, Sodium Hyaluronate Crosspolymer, Sodium Acetylated Hyaluronate]
Hyaluronic acid with different molecular weights in five layers provides more moist and healthy dewy skin care.

Polymeric hyaluronic acid_ sodium hyaluronate

It is known that hyaluronic acid, which is widely used and known, has a helical structure and is capable of attracting more than 1000 times its own weight to moisturize. Hyaluronic acid is highly viscous and has the effect of inducing the activation of skin cells. It makes skin stronger and protects skin with external stimulus, and also has anti-inflammatory and antimicrobial effect, which helps to improve skin disease and prevents invasion by preventing bacteria from invading from outside, thus helping to minimize troubles.

Super Adhesive Hyaluronic Acid_ Sodium Acetylated Hyaluronate

The molecular weight of Sodium Acetylated Hyaluronate is about 500,000 Daltons, and the difference from the existing hyaluronic acid is that the hydrophobic acetyl group can be applied to the skin perfectly by acting as an anchor to the skin surface, so AcHA, which has both hydrophobic and hydrophilic properties, can enhance softening and moisturizing effects compared to conventional hyaluronic acid.

Low molecular weight hyaluronic acid_ hydrolyzed hyaluronic acid

Hydrolyzed Hyaluronic Acid (low molecular weight hyaluronic acid) has a molecular weight of 3,000 ~ 10,000 Dalton, which is excellent in moisturizing and moisture lasting as it penetrates into the stratum corneum of the skin as well as applied to the skin compared to general hyaluronic acid. In addition, unlike hyaluronic acid, which is applied only to the outer skin, the low molecular weight hyaluronic acid penetrated into the skin remains in the skin and does not wash off after washing the face to maintain moisture.

Sodium Hyaluronate Crosspolymer

Sodium Hyaluronate Crosspolymer, derived from natural Hyaluronic Acid (HA), looks like a high viscosity elastic gel and can form an invisible physiological film on the surface of the skin, helping to protect the skin from UV and pollution. As a result of scanning the microstructure of sodium hyaluronate crosspolymer by electron microscopy, it forms a 3D "breathing layer" on the skin surface, improving skin barrier function, reducing water evaporation from the cuticle layer, and helping to prevent skin damage from external invasion such as UV rays and contamination.

Hydroxypropyltrimonium hyaluronate

Hyaluronic acid is a negative ion, which is negative like ions on the surface of the skin. The cationic hyaluronic acid bonds with the skin and binds to the skin rather than the general hyaluronic acid, which has the same negative voice, helping to keep the skin hydrated, improving the barrier, and smoothing the skin. The more cationic Hyaluronic acid is used in proportion to the amount used, the more it will help to improve the skin.

AQUAXYLTM(patented)

[Xylityglucoside, Anhydroxylitol, Xylitol ]
As a patented ingredient of SEPPIC and ECOCERT certified natural moisturizing ingredients that combine birch, beech-derived xylitol and wheat-derived glucose create powerful water-active energy, soothing and moisturizing dry and uplifting skin for a smooth and shiny skin texture.
Other Ingredients
2,3-BUTANEDIOL

2,3-butanediol, which is found in many healthy plants, prevents water loss and is a polyol that can be obtained from nature as a substance that already acts as a moisturizer in nature. It is Ecocert certified and helps anti-wrinkle and exfoliation..

Betaine

Betaine is trimethylglycine, which is usually extracted from the sugar cane root and gives excellent skin moisturizing effect. It has a stronger moisturizing effect than glycerin and has a very high skin soothing and moisturizing effect. As a moisturizer derived from nature, it moisturizes and softens the skin, and ideally controls the skin's oil and moisture balance to prevent dry skin, and helps intensive moisturization and skin barrier strengthening.

Hydrolyzed Collagen

Hydrolyzed collagen is a hydrolyzate component of fish collagen obtained by acids, enzymes or other hydrolysis methods. It is involved in the formation of a film that gently wraps the skin and nourishes the skin to help keep it moist. Its high protein content helps elastic skin care and, when included in shampoo ingredients, helps to give elastic hair.

Allantoin

As a natural mixture of nitrogen derived from wheat sprouts, oak, and the dicotyledonous plant called Comprey, it is a natural substance. Allantoin is said to be active in cells and used as a medicine in Europe. It has a soothing and relieving skin effect and is used in skin inflammation treatment and anti-inflammatory effect. Its ability to promote the growth of new tissues is very effective in treating damaged skin. The allantoin ingredient is safe and nontoxic and there are more than 10,000 patents for its use. It is excellent for skin soothing and relieving effect.

TE-THA

[water, Tremella fuciformis Berk polysaccharide, 1,2-hexanediol, ethylhexylglycerine]
As a Polysaccharide derived from Tremella fuciformis Berk, it can attract up to 500 times its own weight and is effective for moisturizing the skin. Tremella fuciformis Berk polysaccharide is the only vegetable moisturizer with a molecular weight of more than 1 million in cosmetic ingredients. Highly effective moisturizing can increase the amount of moisture in the stratum corneum, Skin can be formed on the surface of the protective layer water layer moisturizing of a certain thickness to reduce the amount of double effect, excellent moisturizing properties, having percutaneous moisture retention water lock of moisture loss.
Product Information
Product name
CELON PURE Double Permeate Ampoule
Capacity
50ml
Date of manufacture
separately indicated
Manufacturer
Escosmetics Co., Ltd.
Responsible Distributor
KDIA Co,, Ltd.
Expiration date
marked separately
Main ingredient
See detailed description
Manufacturing country
Republic of Korea
Functionality
Double functional cosmetics for whitening and wrinkle improvement
Usage and dose
Take an appropriate amount of this product and spread it evenly over the skin.
Efficacy and Effect
Helps skin whitening.
Helps to improve wrinkles on the skin.
All ingredients
water, 2,3-butanediol, butylene glycol, glycerin, dipropylene glycol, niacinamide, 1,2-hexanediol, Tremella fuciformis Berk polysaccharides, scented geranium flower oil, rosewood oil , Rose oil, hydrolyzed collagen, betaine, propanediol, polyglyceryl-10 laurate, xylylglucoside, Adenosine,-anhydroxylitol, * sodium hyaluronate,-xylitol,-glucose, caprylyl glycol, * hydrolyzed hyaluronic acid, * Hydroxypropyltrimonium hyaluronate, pentylene glycol, * sodium hyaluronate crosspolymer, * sodium acetylated hyaluronate, + coppertripeptide-1, + palmitoylpentapeptide-4, + Tripeptide-1, + palmitoyltripeptide-1, + hexapeptide-9, + hexapeptide-11, allantoin, disodium id, ethylhexylglycerin, carbomer, arginine, + Peptide Complex, -AQUAXYL ™, * ANTIPLUS HA
How to use
After washing your face,
clean your skin with toner.

Spread evenly over face and neck
and gently absorb.

If applied to the skin
nd used with LED mask,
the effect is better.
Precautions when using
1.If you have any abnormal symptoms or side effects such as red spots, swelling or itching by direct sunlight when using or after using cosmetics, consult a specialist.
2. Do not use on the wounded area.
3. Precautions for storage and handling
A. Keep out of reach of children
B. Keep away from direct sunlight.
If there is something wrong with this product, you can be compensated according to "Consumer Dispute Resolution Criteria" announced by the Fair Trade Commission.
☎ Consumer Counseling Office: 1544-9459